Mary Ward tradition
The Mary Ward tradition of excellence in women's education began in 1609 when Mary Ward founded a religious order (the Institute of the Blessed Virgin Mary IBVM) and opened her first school for girls in St Omer.
Mary Ward had a compelling vision "that women in time to come will do much". She believed passionately in the capacity of women, through education, to make a profound difference for good in the world.
Her rich legacy inspires all involved in her schools today to be "seekers of truth and doers of justice" (Mary Ward).
At Loreto our vision is to offer a Catholic education which liberates, empowers and motivates students to use their individual gifts with confidence, creativity and generosity in loving and responsible service.
---
Mary Ward in pictures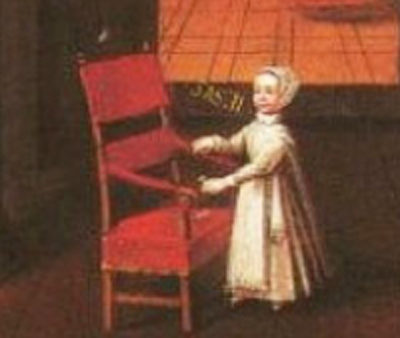 Here is Mary Ward as a little girl. Born in Yorkshire in 1585, she had a bright destiny ahead of her.
She was called to follow Jesus from an early age. For a Catholic child in Elizabethan England, this could only mean suffering for the faith. But God had a plan for her, and Mary Ward answered the divine call.
This picture is taken from her Painted Life, a series of over fifty pictures which were painted after she died in 1645. They were intended to demonstrate the great courage she had in being faithful to the will of God. For Mary Ward had an extraordinary vocation, one which is hugely important in today's Church and world. She was called to be an active apostolic woman, rather than an enclosed nun. So what did she do to follow God's will?
---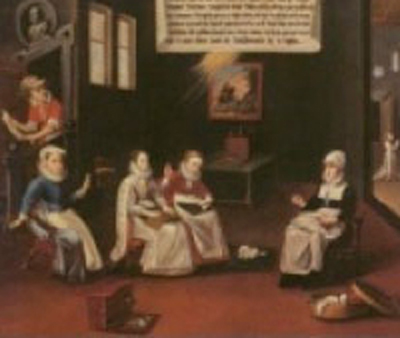 Mary Ward was staying with her cousins when she first realised that God was calling her.
Later she wrote about her sense of vocation: 'When I was about fifteen years old, while living in the house of a relation of my mother, I had a religious vocation. This grace has been so continuous that not for a moment since then have I had the least thought of embracing a contrary state.' She went on to pray: ' O Parent of parents and Friend of all friends, without entreaty thou tookest me into thy care, and by degrees led me from all else that at length I might see and settle my love in thee.'
---
Mary Ward sets off with her first friends to St Omer in continental Europe.
They set up house together; they travelled extensively. This balance of being at home and being prepared to travel would characterise their life together.
They taught girls and, as well, they taught adults about God by helping them listen to the divine call within.
Years of struggle would follow as Mary Ward kept trying to understand God's call to her. This sense of vocation deepened. But the Church found it difficult to recognise that God might be calling women to something so radical and new.
Mary Ward's vision was tried and tested. With her sisters, she prayed earnestly. Her sense of vocation prevailed. When she died, her tombstone would say just this, that she persevered in her fidelity to God's call.
---
In this picture the first companions discuss their way of life – or institute – together.
Nowadays Mary Ward's sisters still form an open circle, a world-wide community known as the Institute of the Blessed Virgin Mary.
They are still concerned about spiritual growth, about education, social well-being, about justice and about truth – especially for women.
---
Philosophy
The educational vision of Loreto schools springs from the Gospel of Jesus Christ. When Mary Ward founded the Institute of the Blessed Virgin Mary (IBVM) in 1609, she recognised the critical difference that education could make to her troubled world, especially through the care and development of faith.
This is our vision: that Loreto schools offer a Catholic education which liberates, empowers and motivates students to use their individual gifts with confidence, creativity and generosity in loving and responsible service. Offering girls the kind of education that would make them "seekers of truth and doers of justice" was innovative and controversial, as was Mary Ward's plan for her sisters to be self-governing, mobile and actively engaged in the work of the Gospel. Grounded in Ignatian spirituality, she believed in the capacity of women as well as men to find God in the ordinary experience of human life.
In her time it seemed that she fought a losing battle, culminating in the suppression of the Institute, her own imprisonment and the closing of the schools. Nearly 400 years later, however, the spirit of Mary Ward continues to inspire us and Loreto schools are part of an international network of friendship. In 1875 Mary Gonzaga Barry brought the IBVM to Australia.
Her influence on primary, secondary and tertiary education was both lively and profound. She established schools across the country which provided a wide range of students with a balanced, happy yet challenging education that prepared them to exert a lasting influence on the emerging nation. Moreover, her initiatives to improve the quality of teacher training and inservice went far beyond Loreto.
Now the Institute is active across Australia and in every continent, collaborating with others to bring the Gospel to life in the church and in society. Education is seen as a vital part of this endeavour, a way of promoting full human growth and freedom.