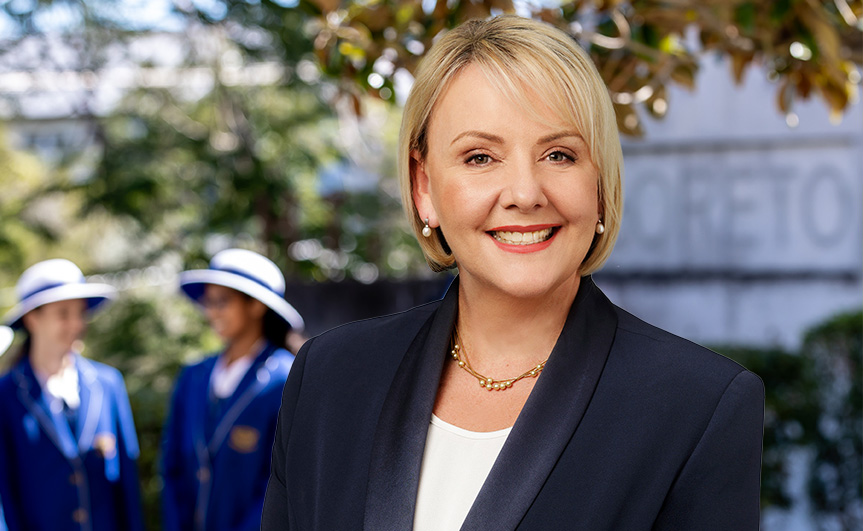 Mrs Kim Wickham
Principal
Kim commenced as Principal in January 2018. As an educator with over 30 years of experience, Kim's professional experience began as a music teacher.  She held positions as Head of Music and Head of Creative Arts before moving into the area of curriculum leadership as Dean of Studies at St Aidan's AGS. She has also worked in the tertiary sector, lecturing in curriculum and professional practice. Kim holds a Masters Degree in Education (curriculum), Bachelor Degrees in both Education and the Arts (Qld Conservatorium), a Graduate Diploma of Teaching plus an Associate Diploma in Performance. She is also a Graduate of the Australian Institute of Company Directors and graduated from her tertiary theology course with the highest Grade Point Average. As a finalist in the Queensland College of Teachers for Excellence in Teaching and Learning Leadership, she is passionate about student voice, agency and personal efficacy.
Mr Chris Nastrom-Smith
Deputy Principal – Curriculum
As Deputy Principal Curriculum (Years 7-12), Chris' primary responsibility is the provision of relevant, engaging and challenging curricular programs that reflect the College's ethos and Mission, but also comply with the relevant statutory authorities, such as the QCAA and ACARA. The role allows Chris to work in partnership with the Director of Academics and lead the  Curriculum Leaders' to ensure the College is developing curriculum approaches and assessment practices that foster collaboration and innovation amongst the teaching staff to ensure our students are provided with the opportunity to engage in enriching learning experiences.
Mrs Lissa Gyte
Deputy Principal – Operations & School Development
Lissa commenced in the role of Deputy Principal – Operations & School Development in 2020, having been a Curriculum Leader at Loreto for the previous five years. She has held leadership roles in both pastoral and curriculum, and has worked across Catholic, Independent, Anglican and State sectors. She holds a Bachelor of Education and is currently completing her Master's degree in educational leadership. Her role encompasses the day to day operations of the College and the creation of staff and student timetables. Lissa is passionate about building expert teaching teams and leads various research based projects that seek to improve the educational outcomes of all Loreto students, as the greatest influence on a students' success is teacher effectiveness.
Mrs Andreia Wigan
Director of Mission
Andreia commenced at Loreto in 2017 as the Director of Mission is responsible for leading the religious life of the school and to animate the charism of Mary Ward and the traditions, ethos and actions of the ibvm sisters here at the College.  Andreia is charged with the formation of students, staff, families and the wider community in the areas of faith and spirituality. This includes the planning, preparation and leading of prayer, liturgy, reflection and retreat opportunities.  Andreia is also responsible for the Social Justice and service areas of the school including the organisation and facilitation of opportunities such as service, charity, awareness raising, community building and immersions.  The purpose of the role is to create a vibrant and active Catholic school community.
Mrs Ysabella Chambers Dawson
Director of Pastoral Care
Ysabella commenced as Director of Pastoral Care in January 2023, joining Loreto College from St Margaret's Anglican Girls School where she held the positions of Head of Year and Student Wellbeing Coordinator. Ysabella's experience in education represents a crossing over of pedagogy and curriculum with research and translation, a focus that emerged from her desire to make a difference in school communities through evidence-based practice and the implementation of high-quality pastoral care programs. A strong believer in the importance of lifelong learning, Ysabella holds a Masters degree in Education, specialising in Leadership and Management, as well as a Graduate Diploma in Education and Bachelor of Fine Arts from the Queensland University of Technology. As part of her postgraduate study, Ysabella tailored her research towards understanding current wellbeing approaches, and analysing and evaluating the impact of pastoral care programs and policies on student wellbeing and learning outcomes. This has allowed her to become adept at theoretical application and interpretation of data to improve student-school connectedness, academic engagement and social inclusion.
Mrs Cherie Vega
Director of Academics
Cherie commenced at Loreto in 2022 as the Director of Academics. This role supports the Deputy Principal – Curriculum in leading the academic procedures and programs of the College to foster excellence in teaching and learning and oversees literacy and numeracy development across the curriculum. Cherie has a passion for curriculum and has led in Business, Student Pathways and Vocational Education and Training and has significant experience in QCAA Quality Assurance processes as a confirmer, endorser and external marker. She cares about the learning needs of each individual student and delivering learning experiences and opportunities that prepares students to thrive and achieve their aspirations. She holds a Master of Educational Leadership and Bachelor of Education (Hons).
Mrs Gail Winks
As Director of Finance and Business Operations, Gail oversees the College business functions including administration, compliance and risk management, community, facilities, finance, and technology services.  As a member of the College Leadership Team, Gail also provides support to the Principal, School Board and Sub-Committees as part of the school's governance program.  A finance executive with over 25 years' experience, she has held roles both locally and internationally across Public Practice, Mining, Manufacturing and Education sectors.  Gail is a Chartered Accountant (Australia), and plans to build upon the legacy of her predecessors to make a lasting, positive contribution to the Loreto Community.